| | | | |
| --- | --- | --- | --- |
| Poster: | Skobud | Date: | May 10, 2012 04:29:19pm |
| Forum: | GratefulDead | Subject: | DDP 15 |
Well, I realized today that it had been just over a year since I produced a DDP. I've been working all along, just never have time to spend on the art. Anyhow, this one changed all that. This was completely inspired by the Terrapin performed this particular evening. This is top shelf GD right here. I included my write up from Review Club over at TA. Cheers to this amazing performance!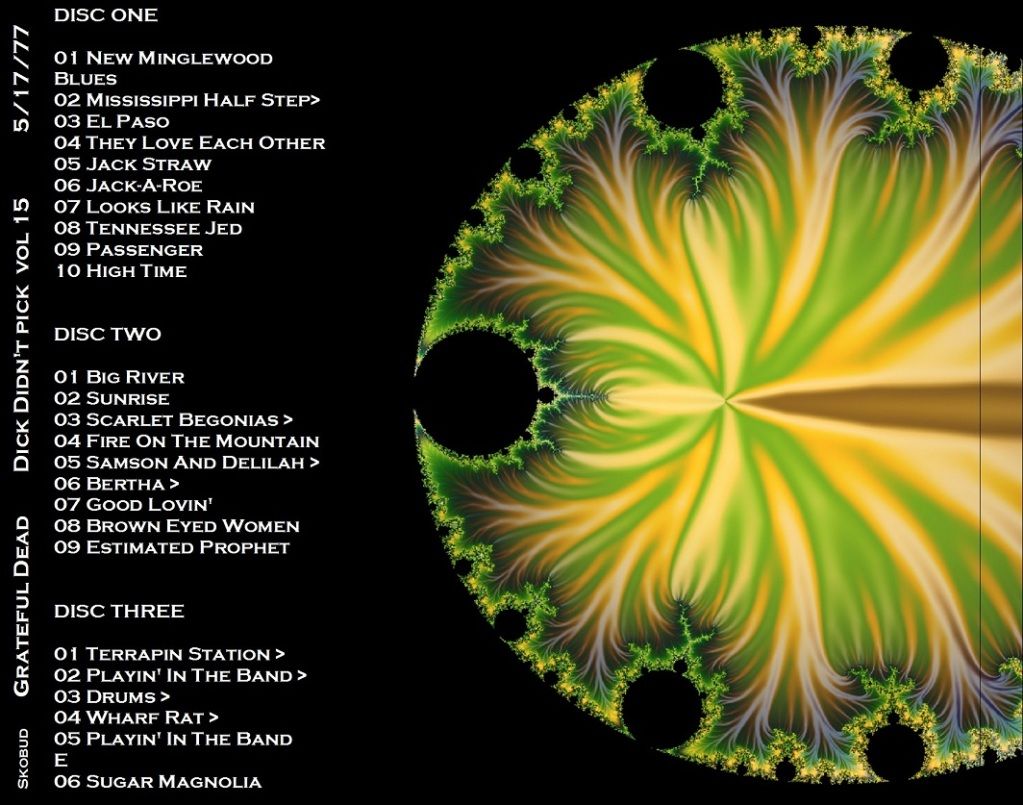 5/17/77
U of Alabama
Tuscaloosa, AL
…….more than this I will not ask.
This week we dive into a very hot and unique show, 5/17/77. This was a nickj and RBNW recommendation, and I also had a few other people Email me about this one after my glowing review of 5/22. I have given this show at least ten full listens, and I really could not ask for much more enjoyment out of a show that I have not heard before now. This show is very different than 5/22 imo. This one is more structured and well played, and not quite as drifty or dreamy. More chops, less improvisation. I mean, of course the solos and what not are improved, but when you listen, it sounds like damn near perfect versions of tunes you know, just the way you like them. Anyhow, here goes..
We start off with a very stout Minglewood, and right from the jump you know the boys are all business. Everyone sounds spot on and Phil is coming through nicely. We jump right into the mighty Mississippi, and mighty this one is. Donna and Jerry's harmonies are a thing of beauty right here. Both sounding unbelievably good, and Jerry's first two solos reach incredible highs. This one is pure butter and amongst the best I have heard. Kieth is right where he should be, and this shit is damn near perfect. WOW. Now that's a Mississippi! Next up is El Paso and my barometer is right on the mark. Jerry starts doing scales the moment the rhythm starts, and this is a classic un-hurried version, which Phil also shines on. In order for El Paso to be top notch, you need the harmonies to be built up just right, and Bobby needs to sound relaxed. He does and this is a great El Paso. TLEO is up next, and just the way I like it. A bump up in speed from the '76 JGB crawl versions, with some serious flair on the solos. Let me mention Jerry's vocals again. Unreal. Jack Straw comes in next and is a straight up smoker! When they play any song this fucking well is really hard not to be awestruck by how incredibly solid it sounds. This is classic GD at full power right here. All timer and this first set is shockingly good so far. I mean really freakin' good. To complete the original Pair O' Jacks, we have my new all time Jack-a-Roe. I have not heard a version that comes close to this one. No wonder Phil picked it for Phil Zone. I have to admit, I don't remember it from Phil Zone(probably cause I listened to Phil Zone once or twice and philed it). Only the second time ever played and WAY bouncier than any other Ive heard. Why the moved this from the funked out rhythm to a more conventional country-esque rhythm Ill never know. Keep it this way boys, shit – I mean Ben heard the bass line and looked over at me with a huge smile and started straight up shakin' a leg to the fat groove. Love, Love, Love this Jack-a-Roe!! LLR is next up, and slows things a bit. It's done about as well as it can be done, and I have to admit my bias against this tune is slowly fading. Donna, when she is on(like tonight), really enhances every tune she takes part in. She sounds ever so sweet…....... I love you Donna from May '77 - Love, Tim from May '12..... Tennessee rolls out next, and its a pretty standard version but the crowd surely loves it! Passenger is up next and is another tune I never really enjoy no matter how well it is done – just too damn disco-ee for my taste. I dunno, it just seems so damn hoky to me. High Time comes out of no where next, and this is some classic chill inducing shit right here. I will go out on a limb again and say this is the best High Time I have heard - by far. I was literally shaking my head in disbelief upon first listen on just how fucking good this one is. Rather than beat it to death I will say this, another new #1 for me right here. Absolutely remarkable. Big River gets things rolling again, really nice job on this one. Jerry is really busy and Bobby sounds great. Classic, straightforward version that is very well played. Nice compliment to High Time. OK, so Sunrise is next. I will tell you this about Sunrise – every time I listen to it conjures up images of the Connery era Bond flicks from the early sixties. I always thought this tune done just the way it is this particular evening would make a wonderful retro Bond movie score(with Donna dancin round as the Bond girl). As far as how I feel about it – shit, its Sunrise. It is at the very top of the heap of suckiness as far as I am concerned. They round out the first set with an awesome rendition of Scarlett>Fire. Since reviewing 5/22, I have probably given about 20 of the best known/recommended S>F's a listen, and it amazes me how the little nuances make all of the difference. For instance this one seems on the surface to be a pretty straightforward well played version. After a few more listens, this one has a wonderful seemless transition that Jerry firmly controls. He also does this open chord kinda thing – Waaa - Waaa - Waaa that really works well to ramp up Fire. Fire starts up and never looks back. Phil sounds fantastic and this combo is shit hot. I mean what else can I say about this wonderful combo. This one is incredible and at least as good as 5/22, yet on a totally different level.
Thoughts on the first set – Its amongst the best first sets I have ever heard. Even with the inclusion of Passenger and Sunrise(two songs I have severe bias against), it took nothing away from this masterpiece. Top shelf top ten first set from any era imo. I am completely blown away by the incredibly poised, beautiful sound these guys have this evening. I am starting to think the vocals by everyone during this time period have a lot to do with the hype that May '77 gets – well deserved I might add.
The second set kicks off with a Samson>Bertha> Good Lovin' combo that really delivers. The Bertha especially has lots of kick. Billy and Mick both really stand out on the Good Lovin'. These aren't best evers, but all three are well played respectable versions. Brown Eyed Women follows up really nicely. Im not sure if its just the placement or what, but Jerry really sounds nice here. Vocals are as soft and smooth as could be, without a flub or crack in sight. Pure velvet this evening. The boys roll out Estimated next, right on cue. Not unlike almost every other Estimated from May '77 I have heard, this one soars. Bobby sounds healthy and virile as ever, Donna's on point and Jerry's damn near perfect tone and beefy wah are something to be heard. Right from the first solo Jerry is weaving his way all around this one with the greatest of ease. It just feels right, and it is placed perfectly, tucked right in the center of the second set. Really nice and an excellent precursor for the jam to come. Terrapin>Playin'>Drums>Rat>Playin comes up next, so grab a cold one because it is officially on! This Terrapin, simply put is the best I have ever heard. Not only would I go so far to say this is the best ever, I think it's one of the finest pieces to ever come out of the boys. I have never heard a version of Terrapin that is played so perfectly, yet soars so high and so effortlessly, before this one. If you have heard this one before, bust it out again – If not, get on that shit. One word to describe this remarkable version – Majestic. Best of the best. It pretty much encompasses all things GD in my book. I can find absolutely no fault in this Terrapin. A shining example of top shelf May '77 material. They pretty much come to a extremely quick full stop and jump knee deep right into Playin'. This Playin' is pretty damn unique because of the way it evolves. Its starts out reminding me of Skullfuck, just straight up rip snort snarl shit, and Bobby and Donna are givin' it hell fo sho. At about the 4 minute mark they jump right into the deep end of the pool, and instantly switch to '74 style meandering. Jerry ever present with his underwater licks – it's time to go exploring. This was such a pleasant surprise upon first listen – I mean who really thought we would go '74 mode at the drop of a hat. One more thing, at about the 10 minute mark it sounds like Phil is trying to get Jerry to go Spanish Jam or something – I mean Im not really sure who was doing what, yet I know I heard a little Spanish Jam tease in there. Great little exploratory jam that evolves into Drums and then Rat. I want to talk a little about Rat here. Right when they are making the transition Jerry does this weird little noodling thing I don't think I have ever heard before outta him at the start of Rat. Really cool and really unique. I'm not sure if he's not really committed yet or what, but when he drops in he certainly pulls at those heart strings one last time with this sad story. Wonderfully told and beautifully played, this Wharf Rat shines on its own as well. They morph it from there back into Playin reprise which brings it all back together and absolutely brings the house down. Man, what a closer! Phil again, really makes this jam something special. He and Jerry seem perfectly in synch throughout this show. They come back and do a very nice Sugar Mags to close out the show. A little banter from Bobby and Phil, off they go, and this one is in the history books. Man what an unbelievable show that was.
Thoughts – I have no idea how a show gets any better than this one. Absolute top shelf performance with a first rate set list. I am now convinced that the wonderfully smooth and solid vocals from the whole crew add a extra dimension to these May '77 shows. Kieth was outstanding with his fills, everyone has great tone and Billy and Mickey both sound great. What can I say, this show is exceptional by any standard. I loved it. Another A+ plus show that gets my very highest recommendation.
New #1 all timers in my book from this show – Jack-a-Roe, High Time and Terrapin.
This post was modified by Skobud on 2012-05-10 23:29:19
| | | | |
| --- | --- | --- | --- |
| Poster: | craven714 | Date: | May 17, 2012 01:54:51pm |
| Forum: | GratefulDead | Subject: | Re: DDP 15 |
Great show. Great artwork> Im gonna take your artwork
home and show the current 'butterfly with dancing bears'
artwork that I have for this show, and rub its nose in it.
"SEE? THIS is what real artwork looks like!" And then,
the sacrificial burning of said old artwork...
Too bad I wasnt at this show: :(
I will wait another year for your goods if I have to Sko.
Keep it up! THX
This post was modified by craven714 on 2012-05-17 20:54:51